Cog 01

This DVD includes only the first episode of the show. I'll be covering image quality and so on only in this review unless they change in the later releases.
First pressing extras included a card of Hikari, as well as a CD containing the 3D program and models used in the next-episode previews. The CD is titled Soshina (little gift). The first edition also comes with a mail-in card for some sort of contest, or maybe one of those customer survey things (I'm not sure).

On to the release. The DVD was packaged in a clear Amray with the flipper in the middle for the extra disc. The cover art is, of course, quite good. The image on the inside of the slipcover is a line drawing of Rakka, white on green, that comes out very well. Silkscreened onto the DVD is part of the cover art from the first doujin
Continuing with the packaging, it also include a card with a picture of Rakka sitting on a roof. The main goodie is a ten page booklet titled Haibane Hakusho, or "Haibane Whitepaper". It includes some images from the first doujin, a map of the city (titled Glie in English, although the katakana transliterates to Guri), some sketches and information about Rakka, a section titled Haibane Culture School, and an interview with Tomokazu Tokoro.
Moving on to the on-disc extras, we get a creditless op, as well as 33 line drawings and a coming soon commercial for the series. There are also a number of wallpapers included on the extra CD, but there is some rather unfortunate engrish in all the images. These are available in the download section.
As to the DVD itself, we get what's expected from a region 2 release. The bitrate on the video is about 9 Mbps, and the audio is a nice PCM stereo track. The video is progressive, but it is mistagged, so some players may have difficulty with it. The video looks great on my equipment, which isn't all that high end (Panasonic Tau 32" and a Skyworth 1050p).
If you want to know more about progressive scan, and what kind of problems you might see due to the incorrect flags, check out this Secrets of Home Theater DVD Player Benchmark page.
The menu is a nice design and quite easy to navigate (click the image below for a larger version).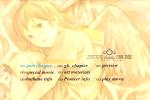 Overall this is a very good release, with just one thing that could have been better.